About Lisa Loveless
If you have taken the time to get to this page then you really want to know why I believe I am the perfect Realtor for you – why the Lisa Loveless Team is the perfect team to help you navigate the sale or purchase of your home.
With 23+ years real estate experience and nearly 30 years in sales, I have developed professional policies and systems that allow me to offer a proven track record of getting the most money for my clients in the least amount of time when selling their homes.
I strongly believe that it is my commitment to my clients' best interests that has allowed me to achieve this. I believe my success is ultimately determined by the legacy I leave with each client I serve. I don't want to say good-bye at the closing table – I want clients for life!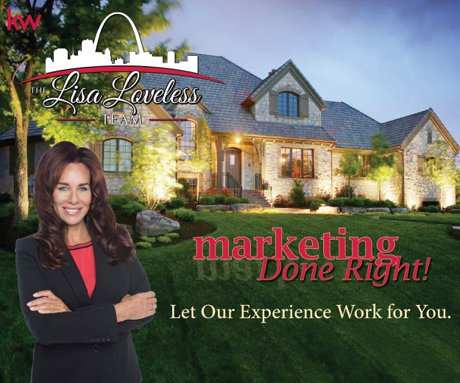 Being an Accredited Home Staging Professional Realtor is a definite bonus for clients. My listings sell fast for two reasons – correct pricing and perfect presentation! I believe in being a full-service Realtor to my clients and know that what I do to help them achieve a quick and profitable sale will come back to me tenfold when they share their complete satisfaction with family and friends.
Most Realtors know the importance of staging a client's home and will gladly refer them to Staging professionals that can cost anywhere from $150 for a consultation to several thousand dollars for a large project. Because I know the value of Staging, I include this service as a professional courtesy to all my clients. I do not charge higher commission fees; I believe you have one shot to make a great first impression to potential buyers and a professionally staged home will definitely outshine the competition!
So, that's a little bit about me. I value each and every one of my clients, and believe the key to a successful Realtor relationship is to honor your word and over deliver through respecting the needs of each and every treasured client. This is why I offer aggressive marketing plans, sound pricing strategies, phenomenal service coupled with Good, Better and Best hands on Staging concepts that flat out work by producing SOLD signs FAST. Averaging 98.5% of list price in 2015 and 2016.
If you feel overwhelmed and uncertain by how to start or wonder what your home equity may be today in this market give me a call...I can help you. If this is the type of Real Estate Team you want on your side, call us today. We will provide a no cost analysis of your property, that will put YOU on top of the competition. Our Staging secrets and concepts work... FAST!
How does an increase in equity sound??
# # #
Lisa is originally from Overland Park, KS but has lived in the St. Louis area for more than 20 years. She enjoys spending time with her three children and three grandchildren. She can regularly be found chasing a toddler around the house, as she is the go-to babysitter for all three grand babies!
Lisa enjoys working out, decorating, gardening and traveling. She has served in several different capacities in her church and is active in her women's networking group and Bible study.