Wildwood Home to a Large Yet Small Community
The purchase of a Wildwood home would be a great move for any outdoor enthusiast desiring to live in the St. Louis area. Enjoy time spent on the Al Foster Trail as well as on many other parks and trails in or near the city. Rockwood and Babler State Parks are in close proximity to any Wildwood MO home.
In addition, Hidden Valley Ski Resort is a short distance away and Six Flags St. Louis is located in nearby Eureka. Other notable features to Wildwood are the new St. Louis Community College campus called St. Louis Community College-Wildwood. An outdoor mall is also available in the city.
Located just over a half an hour's drive from St. Louis, a Wildwood home is a great option for someone looking for close proximity to the amenities of a large city, while living in a smaller town.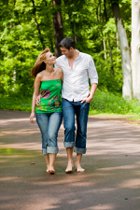 Wildwood has a population of just over 35,000 people, which means it is a city large enough to have all that you need without the hustle and bustle of the big city. There is a very low crime rate, excellent schools, reasonable housing prices, and favorable weather. Wildwood is a wonderful option for those checking out St. Louis County real estate and looking for the best outdoors activities.